That was a beautiful ride through the Columbia River Gorge. Twisty roads lead us out from The Dalles. We crossed metal-grated bridges over the river several times and ended with the familiar comfort of deep green forests at the Skamania Lodge. (side note…I gave a lecture here at a Neurology meeting some 20+ years ago!).
Blue Bird sang sweetly all the way across America and we were part of a group that received "perfect miles" medals. And to have the top finishers represent Harley Davidson, Indian, Henderson, Norton and Triumph manufacturers is outstanding.
To finish the Cannonball endurance run, you need a good bike and good people. We had both including the support and camaraderie of the 4th Coast Fours team (thanks Mark, Tanner, Loring and Kevin). My greatest thanks go to riding partner Vern Acres, van driver and caretaker to all, Shelley Acres and especially to Nancy for always supporting these crazy passions. Here we are at the finish grounds: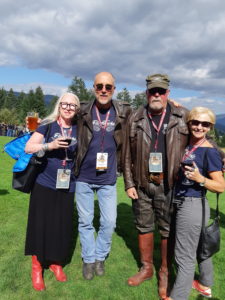 Now…let's start planning for the next Cannonball in 2020!