It was not supposed to be this hard or this crazy. Stage 15 was to be 303 miles through the rolling hills of Eastern Washington. Well yes, that part was true but the headwinds were brutal. These under-powered cycles had to work extra hard to get through that constant roaring and pressure. On some stretches, it came more as a side wind in which case the bike was on a constant angle of lean. The only solution for me was to tuck into a racers crouch. This is the view: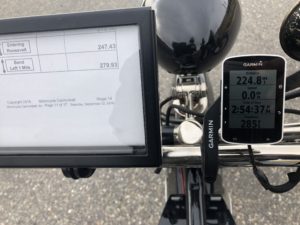 The winds caused all sorts of ruckus including drifts of onion skins and hundreds of bruised onions rolling on the shoulders of the two lane road. Some riders adopted an attitude and this one is clear: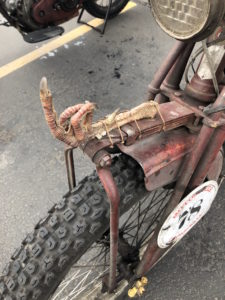 The route had one stretch of 120 between fuel stops. With the strong headwinds, I had to stop and use my spare gas bag with a gallon to top up the tank just to make it to The Dalles. This is along the Columbia River near the Chateau St. Michelle winery: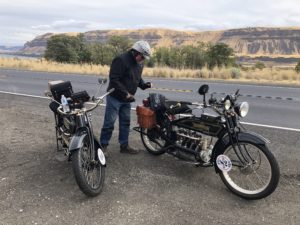 Boots are now tired…Stage 16 has only 51 miles to reach the grand finish at Skamania Lodge; then the boots can rest.