On the short list of places for riders and bikes…the special roads that make you say "yes, that is why we ride", the Going to the Sun Road is one of top three. When we set out in the morning, Jason Sims informed the riders that the road was finally open (after the severe fires) but that there was an alternate, easier route available with an 11 mile/point penalty. No thanks…we said "let's go". So we bundled up with the "live long and proser" gloves: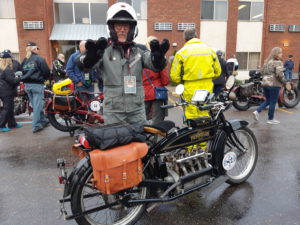 Somehow, the forces of the universe aligned, the sun came out as we went through the Teton Valley and the mountains beckoned. As we headed toward Glacier National Park, Vern and I connected with Andrea Labarbara on her Class II single-speed Henderson and we formed a three bike train. Like  precision  speed skaters we swept through the virtually empty twisties on the route to the park. We were careful to avoid the free-range cattle on the roadside. Once in the park, the steady climb brought us to Logan Pass at 6600 feet (picture credit to AMCA site).
Wow. Shafts of sun and distant cloud bursts. Grizzly bear foraging in the brush not 30 yards from the bikes. Crystal clear mountain streams. Smooth road with spectacular sheer cliffs on either side. Linkert carb dialed in so the power delivery was smooth and the elevation caused no problems. This is why we ride. (The rain and hail at the bottom was not even enough to dampen spirits).
At the end of the day, it was great to visit with local bike enthusiasts (a shout out to the Montana Legends) and to do maintenance without having to do repairs. Stage 14 should be cold in the morning and then warm up as we get to Spokane, WA.