We had a good day of "rest" working on bike maintenance while at our FEMA-like lodging in the middle of a field. The view from above (where the original Sturgis hillclimb competition occurred) looks like this: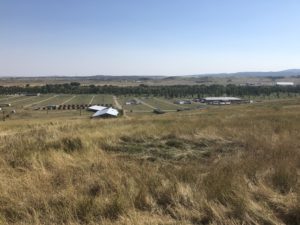 Montana is a delight…man-o-man are those spectacular views! We left SD with temps in the upper 40s…a bit chilly but a beautiful morning. The chaos of the starting line never gets old as the goal is to thread your way to a spot where you can ride your own race at your own pace away from the crowds. We settled into a groove and the three Henderson's were resonating with pulsations in and out of sonic phase.
Today had a couple of surprises….the Garmin odometer suddenly shut off and then restarted. Not trivial, as all the route instructions require accurate knowledge about how many miles have been covered at all points. You snicker…OK, O'Brien, just do the math! Yes, but subtracting 59.3 miles from the route instructions repeatedly makes my brain hurt. The solution? Ride side by side with Vern and when his odometer hit 100 miles exactly, reset the odometer on Blue Bird. At least know the last two digits should match.
Second challenge: another tapered pin came out, this time from the spot where the shift arm locates on the shaft going into the transmission. Result…unable to find any gears or neutral. Another roadside rescue with Allen wrench, safety wire and friction tape.
There were some really nice twisting roads coming down from the hills outside Billings, Montana with blue sky, sunshine, temp in the 70s and a great reception at the Harley Davidson dealer. This is why we ride. Not all participants were so lucky as the Grim Sweeper collected quite a few bikes including the number one position 1911 Excelsior single speed. What is astounding is the some 54 bikes/riders still have perfect scores having completed each Stage within the allotted time.
Cold, rain and steep mountain roads to 7000+ feet will really test endurance over the next two days as we go into Western Montana and Idaho. Thanks for the support.