What a day, 290 miles from Pierre, SD to Sturgis, SD via the Badlands and Mount Rushmore. Getting the bikes out and ready before morning light while looking for more coffee…the 7:30 am start time for Class III riders was early.
We were pleased about the weather forecast showing sunshine and in the 70s. What was not obvious – until we were well underway, was the battle against headwinds. These antique bikes already struggle mightily when taking on hills while gaining elevation but to add strong headwinds means a a real struggle getting to the top. My strategy was to gain momentum going downhill, tuck into a racer's crouch going uphill while trying to maintain speed in the 45-52 mph range. Three small carburetor adjustments where needed by the time we reached an altitude of 5700 feet. What a relief it was to get to the stunningly beautiful Badlands National Park.
Stopping briefly to check oil, I found the clutch pedal resting on the floorboard…no clutch available? No problem. Pushing the hand shift into neutral prevented stalling. The tapered pin which holds the clutch pedal into it's shaft was obviously missing. What to do on the roadside? Dig into the tool roll and see what might work. Solution = Allen wrench and safety wire: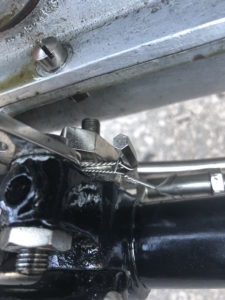 The ride past Mount Rushmore gave us great curving roads through the timbers and rock formations. We cruised through Deadwood, SD and into Sturgis for a great reception, beer and dinner. Lot's of interesting people came to look at bikes and chat including one sweetheart who may become tomorrow's vintage bike rider.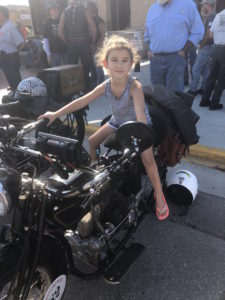 While bearded bikers are common, it is not every day you see this kind of bearded in Sturgis.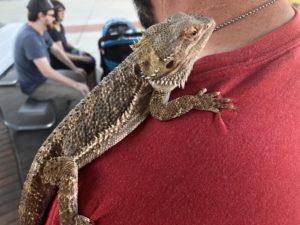 Off now to do the day's bike maintenance, rest and hang with Nancy and fellow riders. Billings, MT is the next goal for Tuesday.