Now is when it starts to get confusing…what day is it? Where are we? What time zone? Fortunately when you are on the bike, pacing yourself for the long day, the route instructions become the structure as miles are clicked off. Stage 8 started early but was a beautiful morning through southern Minnesota. This was a typical view with Vern in front (74 cubic inch engine vs my 58 cubic inch machine):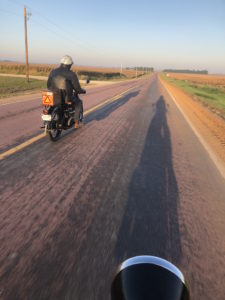 The expected misery of heat, bad roads and excessive distance failed to materialize…it was a nice ride and I could have kept going even after 314 miles! You know you are getting bored when the anticipation of reaching a stop sign in 10 miles seems pretty good. We maintained a steady 50-53 mph, had a frozen fruit bar for lunch at one of several gas stops and got to the finish line early. There was even a little cooling breeze from the Mighty Missouri River to welcome us to Pierre, SD.
Not all riders faired well…the ever persistent Yoshi and Shinya  suffered a flat with the front clincher tire. Yoshi and bike went down and he required some wound care…but I saw them working on the bike at 10:30 pm last night!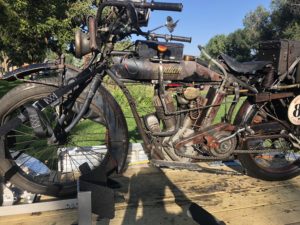 Another night of not enough sleep for me and then a long ride tomorrow. We passed the half way point yesterday and will have a day of rest in Sturgis, South Dakota tomorrow.