It seemed like one long country road. Straight? For 30 miles at a time? No turns? Yes sir. And it was hot with a strong cross wind…especially when the oncoming semi-trailers come by at 60 mph. We had to tuck in tight or the furnace-like buffeting would really hit hard.
The morning started out early but nice with a glow in the air and long shadows across the corn fields. As we got going, I looked down and saw the Spirit of Alan Bedell riding with me: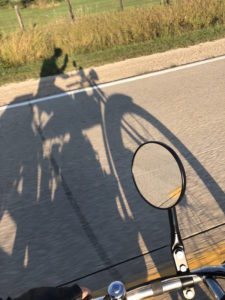 Group chaos is typical as the bikes eagerly leave the starting line but then they sort themselves out into smaller riding clusters and the riders focus on racking up miles. For many, the scheduled lunch stop can be perfectly timed – as Doug Jones found out today. We were following him into Mason City and noticed a soft-looking rear tire. Flat repair is somewhat easier in a motorcycle dealer service area as compared to the side of a no-shoulder highway.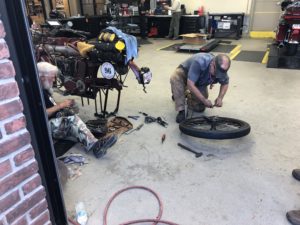 The heat built into the 90s during the afternoon and most Cannonballer's were happy to finish at the Indian Motorcycle factory in Spirit Lake, Iowa. We got the tour, got to visit with friends and cool down. Of course, the call of the nightly ritual could not be avoided.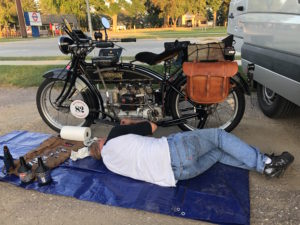 Tomorrow promises to be a tough day….314 miles to travel with the temperature in the mid to upper 90s. The ride into to South Dakota starts early with bike up and ready to go at 6:30 am.